Plaques and Displays:
Uptime Institute provides each awardee an achievement plaque that can be displayed on premise. Below are a few ideas along with examples our clients have shared with us.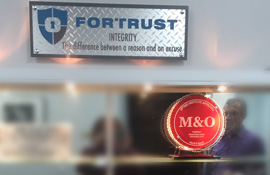 Building Lobby:
Uptime Institute provides a plaque that can be displayed outside of the facility, in your main lobby, in an award cabinet or room, or displayed in other public spaces (like a conference room, lounge, kitchen, reception area, or executive lobby, etc.).

Training:
Most companies have some form of formal training for when new employees join a company or existing staff transition from one department to another. The onboarding and continuous training materials developed by organizations is yet another great opportunity to educate company staff on organizational achievements, awards, and certifications.
Site Tours
As you conduct site tours, discuss the impact your achievement has had on your facility to elevate your organization's status. This also allows your guests to take note of your best practices and take that information back to their own facility. Including a stop in front of your achievement plaque to showcase and highlight the significance.

Talk up your Award:
Make sure that you include a prepared segment on your site tour to showcase and highlight the significance of your achievement, and also to concisely emphasize the impact the process has had on your facility. Have a few specific prepared talking points geared to different audiences, (executive level or operations audiences) to pinpoint key resolutions and findings.