Efficient IT by Uptime Institute provides Enterprise IT organizations with a holistic, business-based approach to eliminate waste and reducing resource consumption in services delivery.
Dedicated to driving Efficient IT
Efficient IT provides a management methodology that evaluates, scores, and benchmarks Leadership, Asset Management, and the Data Center Design & Topology. This approach ensures close scrutiny, and eliminating waste, from data center power and cooling systems; the asset management of compute, storage, network; and—weighed most heavily—the Leadership (i.e., energy management plan, technology adoption plan, cloud strategy, KPIs).
Efficient IT moves beyond the best practices approach to a weighted systems of behaviors, based on multiple decades of research and protocol development. For Adopters of Efficient IT, Uptime Institute's multi-disciplined subject matters experts have identified cost savings between 3x-200x the cost of the assessment.
As outside scrutiny of IT intensifies, and IT technologies fundamentally disrupt the build-operate-build-operate model of IT serves delivery, there is a growing business imperative to provide good stewardship of corporate and environmental resources. Efficient IT provides the IT industry its first and only credible and comprehensive award to identify accomplishments in reducing resources consumed.
Professional Services
Uptime Institute's Efficient IT Assessment is a holistic evaluation of enterprise leadership, operations, and computing infrastructure, to help organizations lower costs and increase efficiency.
Direct consulting and advisory support for DCIM decision making, deployment, and optimization.
Underutilized and comatose servers typically account for 20-30% of a company's server install base. Systematically, reliably, and repetitively eliminating these servers can drastically improve your overall IT efficiency by freeing up valuable IT resources while lowering energy use.
Resources
Ready to learn more or see how others are leading the industry by subscribing to the principles of Efficient IT? Here are several resources that you may find valuable.
Journal Articles:
Videos:
Informational Tools:
Press Releases:

Uptime Institute's Longstanding Commitment to Efficient IT
20 years of focused effort on improving management priorities and cross-functional communication
10 years of Symposium
8 years of Brill Awards
4 years of Server Roundup
Multimillion-dollar investment in research, education and evangelization on energy efficiency innovation and best practices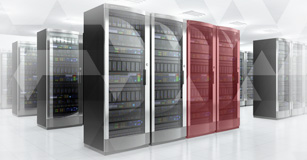 Comatose Servers Are Costing You Money
The Savings Calculator lets you input data specific to your environment to get a quick approximation of the results you can expect by decommissioning your comatose servers.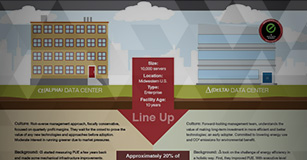 Infographic: A Tale of Two Data Centers
Every data center management choice produces a result. See two contrasting scenarios play out over time: keeping comatose and underutilized servers running, or beginning an audit and decommissioning initiative today. Learn how you can save millions and be a real world success story.