The Accredited Operations Specialist (AOS) program is intended for critical facility operators. You will gain the knowledge to apply the Tier Standards to ensure that critical facilities are operated to meet the needs of the business. The AOS curriculum will allow you to align critical facility operations to consistently evolving requirements and increase your ability to provide a consistent and proven set of standards across an entire data center portfolio.
Course Tutition is US$4,985 per attendee.
Upon successfully passing the course, students will receive a printed certificate of completion and an electronic foil. With student permission, electronic foil and contact information will be posted to the online roster.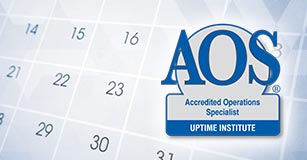 2017 AOS Calendar
AUG
1 - 3
Santiago
AUG
1 - 3
Bangkok
AUG
22 - 24
Copenhagen
OCT
3 - 5
London
OCT
10 - 12
Chicago
OCT
17 - 19
Mexico City
OCT
24 - 26
Sao Paulo
OCT
24 - 26
Singapore
NOV
13 - 15
Dubai
NOV
27 - 29
Shanghai
DEC
5 - 7
Moscow


*Taught in Host Language

Location Details
Course Information