Protect your data center and Tier Certification investment with continuing training, collaboration, and connection. Uptime Institute offers multiple channels and opportunities for data center professionals to learn from the industry's leading experts, benefit from peer networking, and access a rich collection of knowledge and resources to keep your operation running smoothly and your teams at their best.
The Knowledge You Need to Succeed
Accredited Tier Training
— Uptime Institute offers training curricula specifically for data center professionals, aligned to the globally recognized Tier Classification System. Led by senior faculty, these courses result in professional designations respected throughout the industry. ATD is a technically focused curriculum for individuals responsible for data center design. ATS provides instruction for individuals responsible for data center uptime. AOS is an educational course curriculum designed to achieve a complete understanding of the concepts and criteria to develop a comprehensive world class Management and Operations program for a critical facility.
Webinars
— Please refer to our webinar page for a detailed list of our upcoming webinars as well as recordings of previous sessions. Uptime is committed to bringing you timely, relevant information to help you address the needs of your business-critical infrastructure.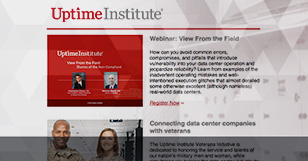 Subscribe to INSIGHTS Newsletter