Uptime Institute is an unbiased advisory organization focused on improving the performance, efficiency, and reliability of business critical infrastructure through innovation, collaboration, and independent certifications.
Uptime Institute serves all stakeholders responsible for IT service availability through industry leading standards, education, peer-to-peer networking, consulting, and award programs delivered to enterprise organizations and third-party operators, manufacturers, and providers. Uptime Institute is recognized globally for the creation and administration of the Tier Standards & Certifications for Data Center Design, Construction, and Operational Sustainability along with its Management & Operations reviews, FORCSS
™
methodology, and energy efficiency initiatives.
Uptime Institute has offices in the U.S., Mexico, Costa Rica, Brazil, U.K., Spain, U.A.E., Russia, Taiwan, Singapore, and Malaysia with a growing global footprint. We serve clients worldwide with successful engagements in over 65 countries.
Uptime Institute experts, leadership, and support team combine to bring you proven industry experience and professional management for each step of your project with quality deliverables, clear communication, and unbiased advice.
"I was fortunate to have been able to serve in the military for 36 years, and I consider the young men and women that volunteer to defend our country to be heroes. I will do whatever I can to help them transition to successful civilian careers. I believe we owe a debt of gratitude to all the men and women who have served. But I also believe if you ignore that and simply look at the business value of hiring staff who have been tested in the most extreme circumstances and have proven themselves to be reliable, dedicated, and objective focused, that you would prefer to hire military veterans. " Lee Kirby, Uptime Institute CTO
Aggregated posts to make sure our audience has access to the full breadth of what's happening within Uptime Institute worldwide including relevant client and industry news.
The 451 Group, through its two operating divisions, 451 Research and Uptime Institute, provides thought leadership, syndicated research and professional services that address the dynamic nature of an expanding data center ecosystem—from facilities to the hardware and software stacks to 'IT as a service'—and its profound implications for the way enterprises plan, build, and manage their IT environments.
In addition, through 451 Events, The 451 Group runs premier technology summits and conferences around the world. The 451 Group is headquartered in New York, with offices in key locations.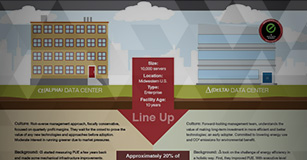 Infographic: A Tale of Two Data Centers
Every data center management choice produces a result. See two contrasting scenarios play out over time: keeping comatose and underutilized servers running, or beginning an audit and decommissioning initiative today. Learn how you can save millions and be a real world success story.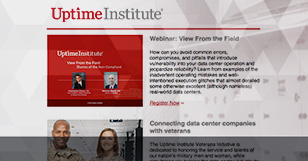 Subscribe to INSIGHTS Newsletter