Uptime Institute Intelligence
The Uptime Institute Intelligence practice is dedicated to identifying, analyzing, and clearly explaining the trends, technologies, and changing business of the mission-critical infrastructure industry, so that our clients may make considered, well-informed decisions, explore new opportunities, and reduce their exposure to risk.

Drawing on deep practical expertise and research experience over more than 25 years, and a global network of clients, partners, and associates, our team is able to examine the design, operation, and economics of mission-critical infrastructure, the disruptive promise of innovation, and the practical realities of day-to-day management.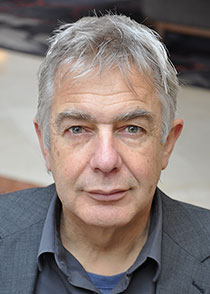 "We help our clients solve higher-order problems with our deep understanding of both critical infrastructure and IT. Uptime Institute has been giving practical and strategic help to clients for over 25 years, without bias or conflicting agendas. Our network of analysts and consultants can draw both on their own deep knowledge, as well the collective experiences of our large client base – we can put all this expertise to work very effectively and quickly."
Andy Lawrence, Executive Director of Research, Uptime Institute
Contact Us
Have questions or need help? Fill out the form and we will follow up with you right away.
How to Access Our Intelligence
Uptime Institute Intelligence delivers content through a number of channels, including providing full access to all research to Uptime Institute Membership members, limited access to Uptime Institute Inside Track subscribers, as well as custom research and presentations for corporate clients.
Uptime Institute Membership
Custom Research
Uptime Institute Intelligence provides custom research, presentations and reports for corporate clients upon request.
Request Custom Research
If you operate or manage mission critical infrastructure, the best way to access Uptime Institute Intelligence material in all its forms is to join the global Uptime Institute Membership, with its Inside Track online community including direct access to our analyst team.
Uptime Institute Intelligence is enabled by pairing the most experienced data center consultants from Uptime Institute with the analyst team from Uptime Institute Intelligence. This joint effort of blending analyst perspectives with perspective from the field provides unique insights into cutting-edge data center technologies, trends in IT efficiency and optimization, effective application of data center best practices in facilities and management, and the best practices in driving IT resiliency at the business, application, network, and physical layers.
Daniel Bizo serves as Research Director at Uptime Institute. Over the past 15 years, he has covered the business and technology of enterprise IT and infrastructure in various roles, the past ten years as an industry analyst and advisor. His research includes sustainability, operations, and energy efficiency within the data center, on topics like emerging battery technologies, thermal operation guidelines, and processor chip technology.
Daniel Bizo
Research Director
Chris Brown serves as Chief Technical Officer of Uptime Institute. Brown currently oversees the organization's global team of data center consultants and experts. He has over two decades of experience in critical facilities, including in the technical areas of capacity planning, retrofitting, new facilities design and leading management and operations teams.
Chris Brown
Chief Technical Officer
Jacqueline Davis is a Research Analyst at Uptime Institute covering global trends and technologies that underpin critical digital infrastructure. Her background includes environmental monitoring and data interpretation in the environmental compliance and health and safety fields.
Jacqueline Davis
Research Analyst
Jay Dietrich is the Research Director of Sustainability at Uptime Institute. Dietrich looks beyond the hype to analyze the transformations required in energy and IT systems, data centers and software management systems, and intra-organizational collaboration, both within and between companies, to deliver sustainable data center operations.
Jay Dietrich
Research Director of Sustainability
Douglas Donnellan is a Research Associate at Uptime Institute covering sustainability in data centers. His background includes environmental research and communications, with a strong focus on education.
Douglas Donnellan
Research Associate
Andy Lawrence is a founding member and the Executive Director of Research for Uptime Institute Intelligence, which analyzes and explains trends shaping the critical infrastructure industry. He has extensive experience analyzing developments in IT, emerging technologies, data centers and infrastructure, and advising companies on technical and business strategies.
Andy Lawrence
Executive Director of Research
Dr. Tomas Rahkonen is the Research Director of Distributed Data Centers at Uptime Institute. Rahkonen has spent the last 25 years in positions within the telecommunications, mobile communications, and data center sectors globally, and most recently served as the CTO of Flexenclosure, where he managed the design and delivery of prefab data centers across four continents.
Dr. Tomas Rahkonen
Research Director of Distributed Data Centers
Dr. Owen Rogers has been researching the economics of cloud for over a decade as a product manager, a PhD candidate and an industry analyst. Rogers covers all areas of cloud, including economics, sustainability, hybrid infrastructure, quantum computing and edge.
Dr. Owen Rogers
Research Director for Cloud Computing
Lenny Simon is a Senior Research Associate at Uptime Institute covering global trends, sustainability and technologies in critical digital infrastructure. His background includes analysis of green energy regulation and environmental policy.
Lenny Simon
Senior Research Associate
Max Smolaks is a Research Analyst at Uptime Institute Intelligence. Mr Smolaks' expertise spans digital infrastructure management software, power and cooling equipment, and regulations and standards. He has 10 years' experience as a technology journalist, reporting on innovation in IT and data center infrastructure.
Max Smolaks
Research Analyst
Research Reports Produced by the Team
Uptime Institute Intelligence produces a variety of research outputs. The three main report types are:

Advisory Reports
Authoritative, in-depth reports that serve as a comprehensive guide on a particular topic, technology or trend.
Focus Reports
These reports explore a specific topic and are often written by Uptime Institute global consultants or technical partners/associates.
Update Reports
These are short reports on industry trends and technologies shaping the changing IT and data center landscape.
Uptime Institute Intelligence also produces custom research for clients on demand, publishes some videos, conducts regular webinars, and hosts discussion roundtables for managers of critical infrastructure, both virtually and at Uptime Institute Membership meetings.



You may access a selection of complimentary, downloadable research by clicking on any of the reports below.
Uptime Institute Intelligence Agenda
The Uptime Institute Intelligence agenda is focused around three key areas: Corporate Risk & Governance, Business Planning & Operations and Technology Selection & Strategy.
Corporate Risk and Governance
Management Challenges of Hybrid Cloud
Outages and Resiliency
Corporate Sustainability
Life Safety and Security
Business Planning and Operations
Enterprise Capacity and Budget Trends
Metrics and KPIs
Staffing and Operations
Management Tools and Software
Technology Selection and Strategy
Data Center Builds & Form Factors
Servers and Storage
Cloud & Colo Selection and Management
Disruptive Innovation
Uptime Institute is the Trusted Advisor to the World's Leading Enterprises
Acxiom
Allinfnt Finance and Technology Development Co., Ltd.
Allstate
AT&T
Bayer U.S. LLC
The Boeing Company
BMO Financial Group
Bradesco
CGI
Chesapeake Energy
China Mobile
China Welfare Lottery
Colt Technology Services
Compass Datacenters
Cyxtera
Datacampus
Datacampus
Deere & Company
Department of Veterans Affairs
Depository Trust & Clearing Corporation
DFT
DigiPlex
Digital Realty Trust
DST Systems, Inc.
Entel S.A. Chile
Equinix do Brasil
e-shelter
FannieMae
Fastweb
Fidelity Investments
First Citizens Bank
Fujitsu Services Limited
Green Mountain Data Centre
Highmark
Huawei
ING
Iron Mountain
Itau-Unibanco
JPMorgan Chase
Kaiser Permanente
LuxConnect
McKesson
Mentor Graphics
Mobily
Morgan Stanley
Nationwide
New York Stock Exchange
RagingWire Data Centers
RBC Financial Group
Sabey Data Center Properties
Saudi Aramco
Société Générale
SoftLayer Technologies, Inc.
Sun Life Financial
T5 Data Centers
Target
TD Bank
Thomson Reuters
Turk Telekom
UniCredit Group
United Airlines
United Parcel Service
UnitedHealth Group
US Bank
Verizon
VIRTUS Data Centres
Visa, Inc.
Wells Fargo
---