Latest news from Uptime Institute, our clients, and the industry at large.
In the news
Distributed data centers boost resiliency, but IT hurdles remain
How Michael Dell Reinvented His Company
How to create a company culture that can weather failure
One or many? Selecting vendors to build a unified data centre
Metronode is expanding three of its data centers
How to Manage Data Center Risk and Reduce Insurance Premiums
CNA lowers insurance costs for Uptime certificate holders
Insurance savings for data centres that meet Uptime Institute standards
Tiers for fears: How to ensure data centres keep companies flying
Uptime Institute reaches 1000 certifications
Uptime Institute Awards Its 1,000th Certification
Uptime Institute awards certification #1000 - demand for performance insight continues
Uptime Institute Awards Its 1000th Certification
Fujitsu to upgrade four Australian data centers to Tier IV
'Localisation of data can aid economic growth'
Killing Cloud Outages With Data Centre Intersects
Here's why major airline outages keep happening, and what you can learn from them
Data centre industry outlook – key trends for 2017
British Airways IT outage: What went wrong with its datacentre?
IT still needs the tried-and-true on-premises data center
Learn efficiency lessons from hyperscale cloud providers
East Africa Data Centre obtains Tier III certification
Pi DATACENTERS Achieves Uptime Institute Tier IV Design Certification
Powering Australia's new megawatt industry
Enterprise-owned data centres still 'essential' despite cloud growth, research notes

Uptime Institute Press Releases
Uptime Institute Expands Data Center Leadership to Turkey
CNA Names Uptime Institute as New Allied Vendor
Uptime Institute Awards Its 1000th Certification
Uptime Institute Symposium Returns to Las Vegas to Examine Achieving IT Infrastructure Excellence in the Hybrid Cloud
Uptime Institute Annual Survey Results: Enterprise-owned Data Centers Still Primary Compute Venue
Uptime Institute Achieves CPD Accreditation for All Offerings
Uptime Institute Extends Professional Curriculum for Engineering & Facilities Management Career Advancement, Adds New Accreditations for Management & Operations
LinkedIn's Flagship Data Center, One of the World's Most Efficient and Resilient, Achieves Uptime Institute's Efficient IT Stamp of Approval
Uptime Institute Symposium: China Announced in Shanghai 22 March 2017
Cloud Transition Faster Than You Think According To Uptime Institute 2016 Data Center Industry Survey
Uptime Institute Appoints R. Lee Kirby to New Position of President
Uptime Institute Symposium: Middle East Announced for December 7 in Dubai
Uptime Institute to Serve as Global Contributor for Data Centre World
BPM Practices Come to the Data Center with Uptime Institute's Management & Operations Stamp of Approval
CenturyLink continues to raise industry bar for operational excellence by certifying over half of its data center portfolio with Uptime Institute M&O Stamp of Approval
Uptime Institute Awards Bank Hapoalim first Tier Certification in Israel
Uptime Institute Announces Efficient IT Stamp of Approval
Uptime Institute to Certify All of CenturyLink's 57 Data Centers for Management and Operations (M&O) Excellence
CenturyLink's Minneapolis-St. Paul Data Center is First and Only Colocation Facility in Minnesota to Earn Tier III Certification of Constructed Facility
Uptime Institute and TIA agree on clear separation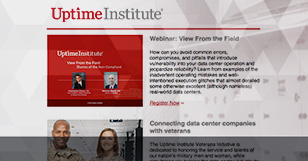 Subscribe to INSIGHTS Newsletter