Beyond PUE: Tackling IT's Wasted Terawatts
---
Analysis of data center energy efficiency trends over the past decade, supported by detailed power usage data from over 300 data centers, shows that significant improvements have been made. While gains in mechanical and electrical efficiency have stalled over the past few years, it remains that over 65% of the power used by IT in data centers is used to process just 7% of the work, due to aging equipment inefficiencies. But if it is time for operators to pay more attention to IT energy efficiency, they need to do their analysis carefully: the slowdown in Moore's law is creating new complications.
This report by Uptime Institute Intelligence focuses on the efforts to improve energy efficiency and also shows that very substantial energy reduction opportunities still remain untapped.
CONNECT WITH UPTIME INSTITUTE
This complimentary report is an excerpt of a detailed report available to Uptime Institute Network members.
Data center owners and operators can request guest access to Uptime Institute Network using the button below.
Request Guest Access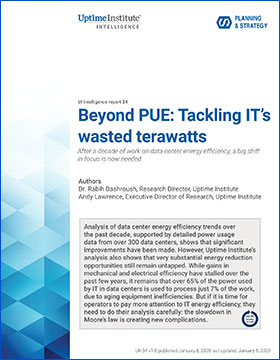 Download the Report
Fill out the contact form below to download the report.
---