Uptime Institute's examination of some of the top trends in data centers in 2020 shows an industry that is confidently expanding, especially at the edge, attracting new investors and increasingly embracing new technologies. But it also faces some challenges — particularly in the areas of resiliency, staffing, environmental impact and energy use.
In this report, the Uptime Institute Intelligence team looks into key 2020 data center industry trends.
CONNECT WITH UPTIME INSTITUTE
This complimentary report is an excerpt of a detailed report available to Uptime Institute Network members.
Data center owners and operators can request guest access to Uptime Institute Network using the button below.
Request Guest Access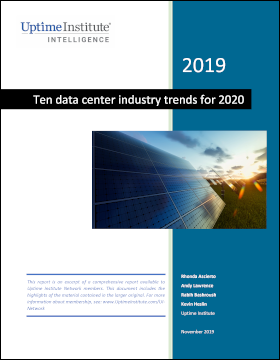 Download the Report
Fill out the contact form below to download the report.