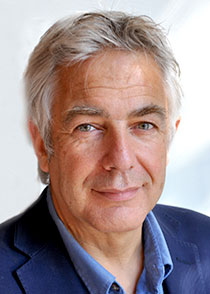 A Word from the Uptime Institute Intelligence Team
Last year brought unprecedented change upon the data center industry.
Continued, rapid growth in our dependence on digital infrastructure was paired with a global pandemic, presenting worker shortages and supply-chain pressures that impacted the industry in ways we could have never expected.
Below, we summarize our key research reports from 2021, sharing insights from the Uptime Institute Intelligence team of global industry experts to highlight key findings from the past year, and present a look ahead to 2022 and beyond.

- Andy Lawrence, Executive Director, Uptime Institute Intelligence

Uptime Institute 2021 Research Recap
The people challenge: Global data center staffing forecast 2021-2025
As the data center build-out continues across the globe, many more people will be needed to design, build and operate this critical infrastructure.

Global data center staff requirements are forecast to grow globally from about 2.0 million full-time employee equivalents in 2019 to nearly 2.3 million in 2025. Most demand will be in the Asia Pacific region, followed by North America and the Europe, Middle East and Africa regions.

Demand growth will come from cloud providers, internet giants and colocation data centers. Cloud/internet giants' data centers — those either owned or leased by major public cloud/internet companies — will require the most staff, by a significant margin.

Download Links:

Renewable energy for data centers
Data center energy consumption and claims of 100% renewable energy use are receiving ever more attention from the media, legislators, and customers.

Carbon emissions reporting is becoming more widespread. Reporting is voluntary in most jurisdictions, but mandatory international sustainability reporting standards are under discussion. Large corporations, such as Apple and Microsoft, now require carbon and sustainability reporting for all their suppliers.

Customer demand for renewably powered data centers is increasing. Requests for proposals for new contracts may now include detailed questions about data center sustainability. Customers are also becoming more sophisticated (and demanding) about their understanding of offsets, RECs and PPAs.

Download Links: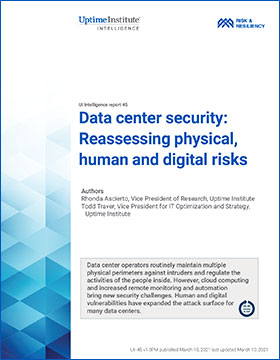 Data center security: Reassessing physical, human and digital risks
Despite considerable effort to secure physical facilities, infrastructure and access-control systems and staff procedures, the likelihood of sabotage has grown, the surface area for attacks has expanded, and the methods used by intruders are increasingly sophisticated.

Data center owners and operators should continue to invest in strong physical security; a lack of incidents across the industry is a sign of success, and vigilance and investment should not be relaxed.

Cloud computing, internet connections and remote management technologies have introduced new threats for facility management teams, and the COVID-19 pandemic has increased the attack surface for many data centers globally due to on-site staff disruption and greater use of remote operations.

Download Links: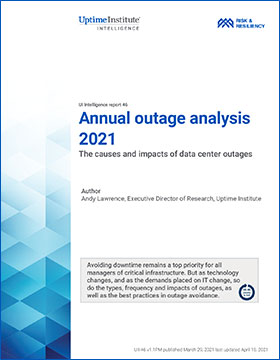 Annual outage analysis 2021
In spite of improving technology and better management of availability, outages remain a major concern for the industry — and increasingly, for customers and regulators. The impact and cost of outages is growing.

The causes of outages are changing. Software and IT configuration and network issues are becoming more common, while power issues are less likely to cause a major IT service outage.

Human error continues to cause problems. Many outages could be prevented by improving management processes and training staff to follow them correctly.

Download Links: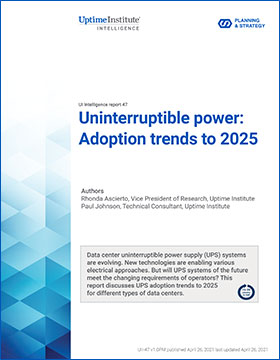 Uninterruptible power: Adoption trends to 2025
Data center uninterruptible power supply (UPS) systems are evolving. New technologies are enabling various electrical approaches. But will UPS systems of the future meet the changing requirements of operators?

Through 2025, few core data centers are likely to adopt novel electrical approaches, such as medium-voltage UPS, despite the advantages. Distributed uninterruptible power systems with batteries will also likely remain niche due to technical and commercial risk, either perceived or real.

Centralized, 3-phase UPS systems will continue to dominate for the next few years, at least, even though problems with batteries, product reliability and safety, in addition to other factors, are likely to persist. Adoption of newer, high-efficiency UPS operational modes that go beyond established ecomode functions will be largely driven by the ability of manufacturers to address concerns over risk.

Download Links:

Demand and speculation fuel edge buildout
The top factors driving demand for edge data centers are a need to reduce latency to improve or add new IT services and a need to reduce network costs and/or bandwidth constraints in data transport over wide distances.

However, the complexity of edge business cases and other factors threaten to suppress demand.

Large-scale edge data center projects are becoming more common. Data center owners and operators, as well as suppliers, expect more edge data center deployments in the next two to three years. While most owners/operators expect to deploy their own private edge data centers, a growing portion say they would prefer leasing space in shared edge facilities.

Download Links: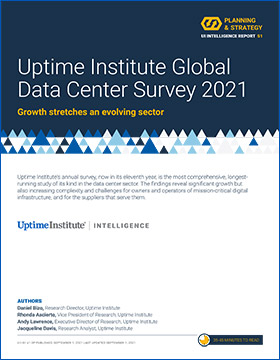 Uptime Institute Global Data Center Survey 2021
Uptime Institute's annual survey, now in its eleventh year, is the most comprehensive, longest running study of its kind in the data center sector. The findings reveal significant growth but also increasing complexity and challenges for owners and operators of mission-critical digital infrastructure, and for the suppliers that serve them.

This year's report looks at key developments across technology, staffing, capacity and outages in this vibrant market.

Download Links: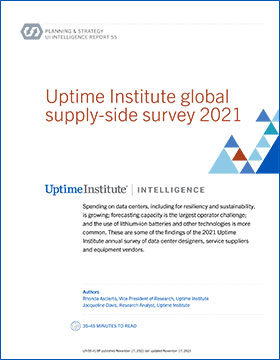 2021 Global Supply-Side Survey
The Uptime Institute Global Survey of Data Center Designers, Consultants and Vendors 2021 shows that suppliers are facing expansion on several fronts. For the third year in a row, about 80% say customer spending is at or above normal levels.

Nearly four in five suppliers have established targets to reduce the environmental impact of their products or services. Most have redesigned their products and services in the past two years.

Driven by the increase in critical workloads, much power and cooling resiliency has shifted from N+1 to N+2.

Download Links:
Join the Uptime Institute Membership
These Uptime Institute Intelligence reports are just a small selection of the deep research and real-time market intelligence available to Uptime Institute Members.
Uptime Institute welcomes owners and operators of digital infrastructure to join us as our guests at an upcoming Membership event.
To request guest access, visit the Uptime Institute Membership page on our website and fill out the "Join us as a Guest form" to get started!
---