To design, manage, and operate the critical infrastructure your business depends on, you need the most authoritative, evidence-based, and unbiased guidance. For two decades, the business-critical infrastructure industry has relied on the unparalleled expertise, best-practice standards, and innovation of Uptime Institute. We've helped enterprise and vendor organizations around the globe build and maintain business-critical infrastructure to optimize performance, reliability, and efficiency.
The Data Center Experts
Uptime Institute is recognized worldwide for the creation and administration of the rigorous Tier Standards & Certifications that enable data centers to achieve their mission while mitigating risk. Our senior-level consulting services help companies design, build, launch, and manage data center operations—whether a single facility or a complex global portfolio—that are resilient and effective.
Our experts possess deep background in both IT and infrastructure, combined with decades of experience managing high-availability environments. They draw on Uptime Institute's proprietary methodology and the world's largest repository of data center research to help you attain and sustain operational excellence and efficiency.
Uptime Institute's education, research, assessments, and consulting span all aspects of business critical IT infrastructure and facility management.
Facilities
– From initial strategic planning through the design, construction, commissioning, and operation of data center facilities, Uptime Institute is the global authority on data center business-critical systems. Ensure that your capital investment in IT infrastructure yields the performance and reliability you need to mitigate risk and meet your business mission. Tier Certifications in Design Documents (TCDD) and Constructed Facility (TCCF) are the preeminent industry standards.
Operations
– Wherever you are in the data center life cycle—from designing a new facility to managing aging site infrastructure—Uptime Institute's Facility Management and Operations methodology can be applied to ensure operational effectiveness and reduce risk. Operational Sustainability is the culmination of the Tier Certification process signifying your organization's leadership; the Management & Operations (M&O) Stamp of Approval offers third-party validation to existing facilities independent of the Tier Classification System.
Efficient IT
– Whether you're just starting a new energy initiative or your efforts thus far have not reached their full potential, significant impact can be achieved with a holistic approach to efficient IT that factors in all the critical elements. Uptime Institute offers evidence-based methodologies that lead to substantial improvements in resource consumption, reduced carbon footprint, and millions of dollars in cost reductions enterprise wide.
FORCSS
®
– Determining the best choice between IT deployment alternatives for your firm can be a complicated decision, as you balance sometimes competing business, facility engineering, computing, operating, and market considerations. Uptime Institute has developed a system to capture, compare, and prioritize the various impacts of IT deployment alternatives, helping organizations align on a coherent strategy that balances Financial, Opportunity, Risk, Compliance, Sustainability, and Service Quality: FORCSS.
Professional Development
– Uptime Institute has developed training curricula specifically for data center professionals, aligned to the globally recognized Tier Classification System. Accredited Tier Designer (ATD) and Accredited Tier Specialist (ATS) provide intensive training that helps you align infrastructure and operations with your uptime mission. These courses are led by senior Uptime Institute faculty, and result in professional designations that are respected throughout the industry.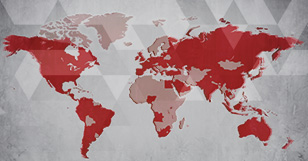 GLOBAL LEADERS
Uptime Institute has awarded over 774 Certifications in 78 countries around the world.
View the map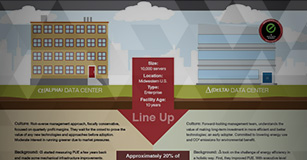 Infographic: A Tale of Two Data Centers
Every data center management choice produces a result. See two contrasting scenarios play out over time: keeping comatose and underutilized servers running, or beginning an audit and decommissioning initiative today. Learn how you can save millions and be a real world success story.