How Planning Reduces the Impact of Outages
---
Data center outages remain a major concern despite industry efforts to reduce their frequency, duration and cost.
Maintaining and training staff on comprehensive, up-to-date procedures is a proven best way of reducing the likelihood of an outage and is key to restoring operations quickly afterward. This report examines the impact of outages and the relationship between operating procedures and outages.


CONNECT WITH UPTIME INSTITUTE
This report is an excerpt of a comprehensive report available to Uptime Institute Network members. Data center owners and operators can request guest access using the button below.
Request Guest Access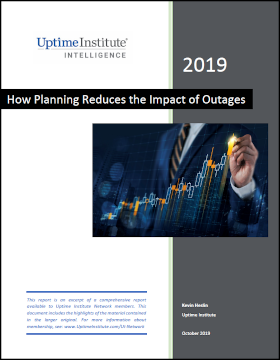 Download the Report
Fill out the contact form below to download the report.
STRUGGLING WITH OUTAGES?
Our Management & Operations Stamp of Approval program helps data center owners and operators assess their existing protocols and design and execute a training, staffing and operations program aligned around minimizing risk and decreasing the frequency and severity of outages.
Learn More
---